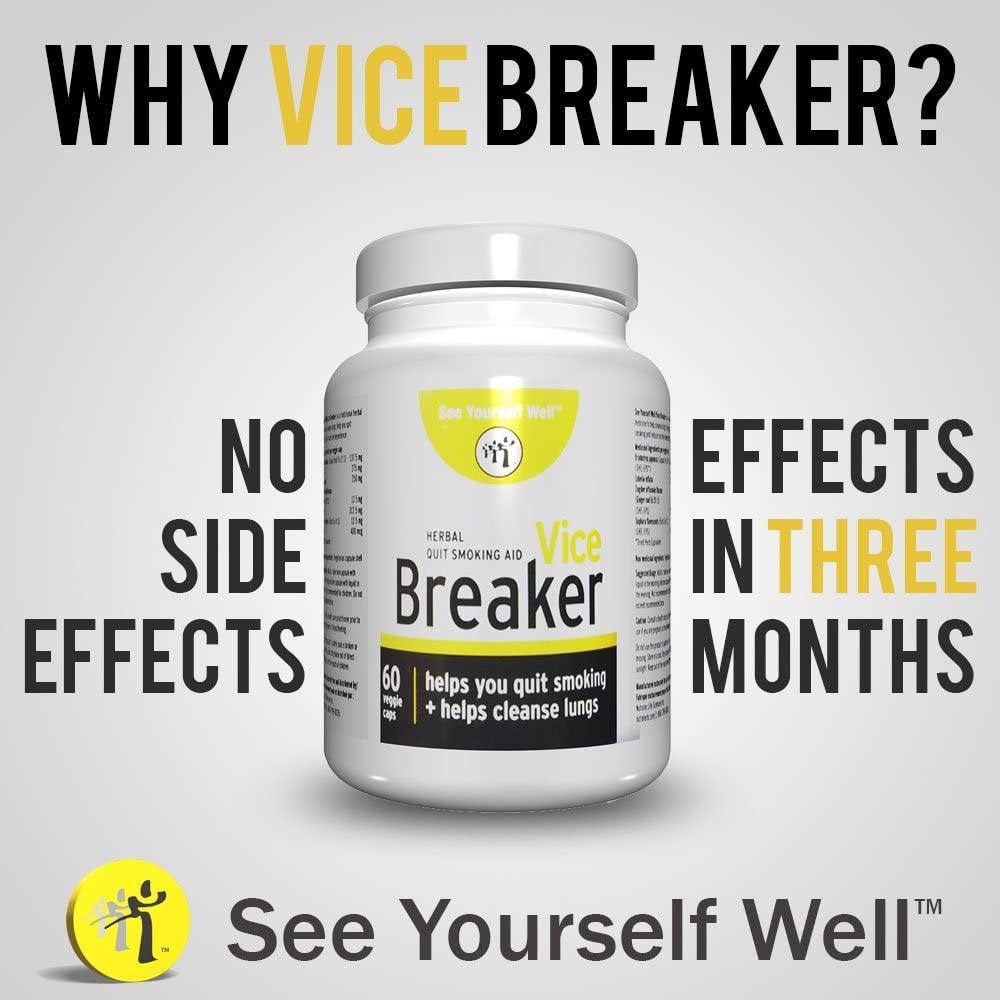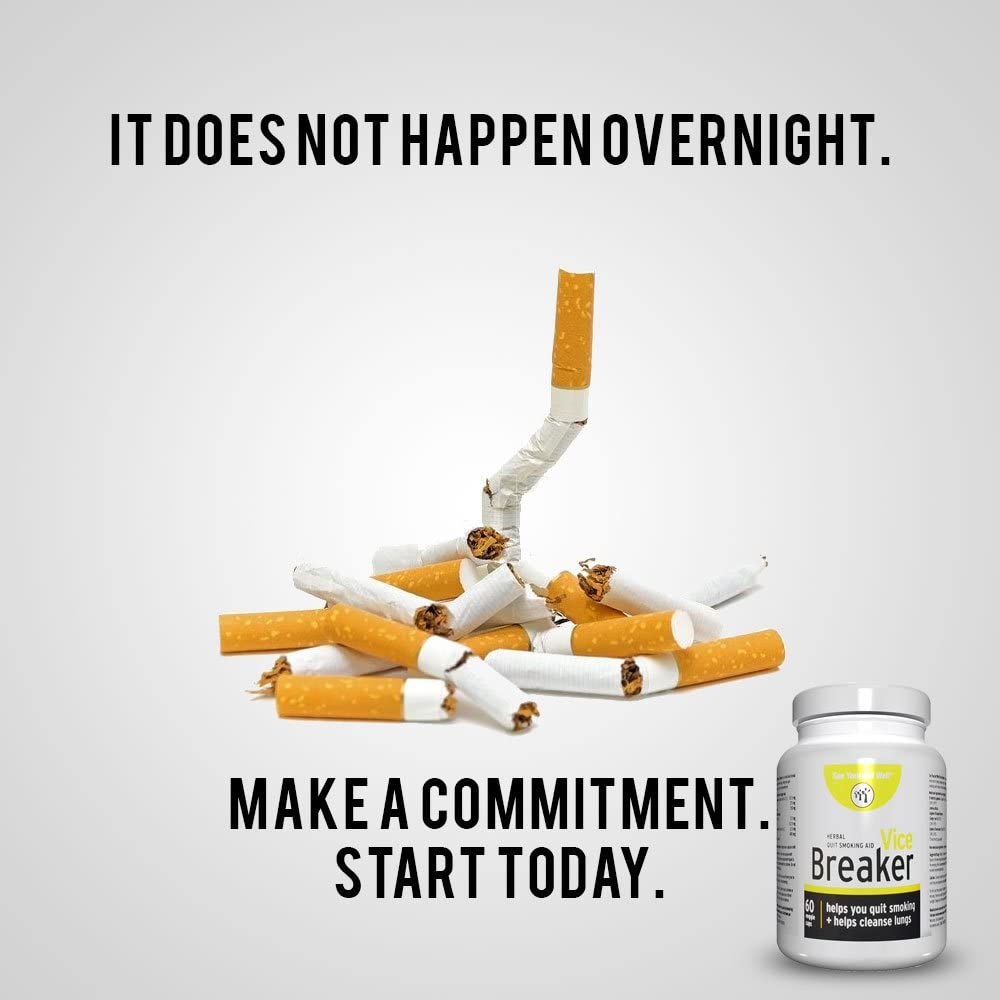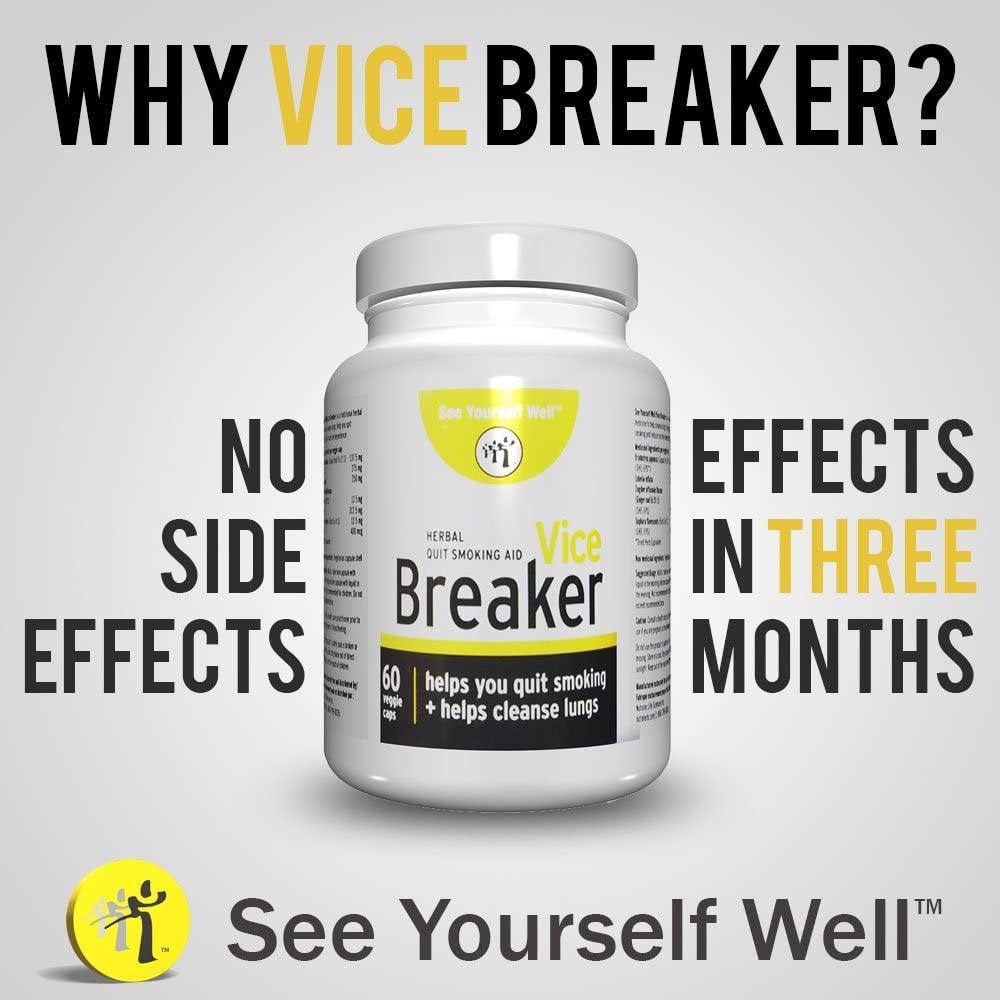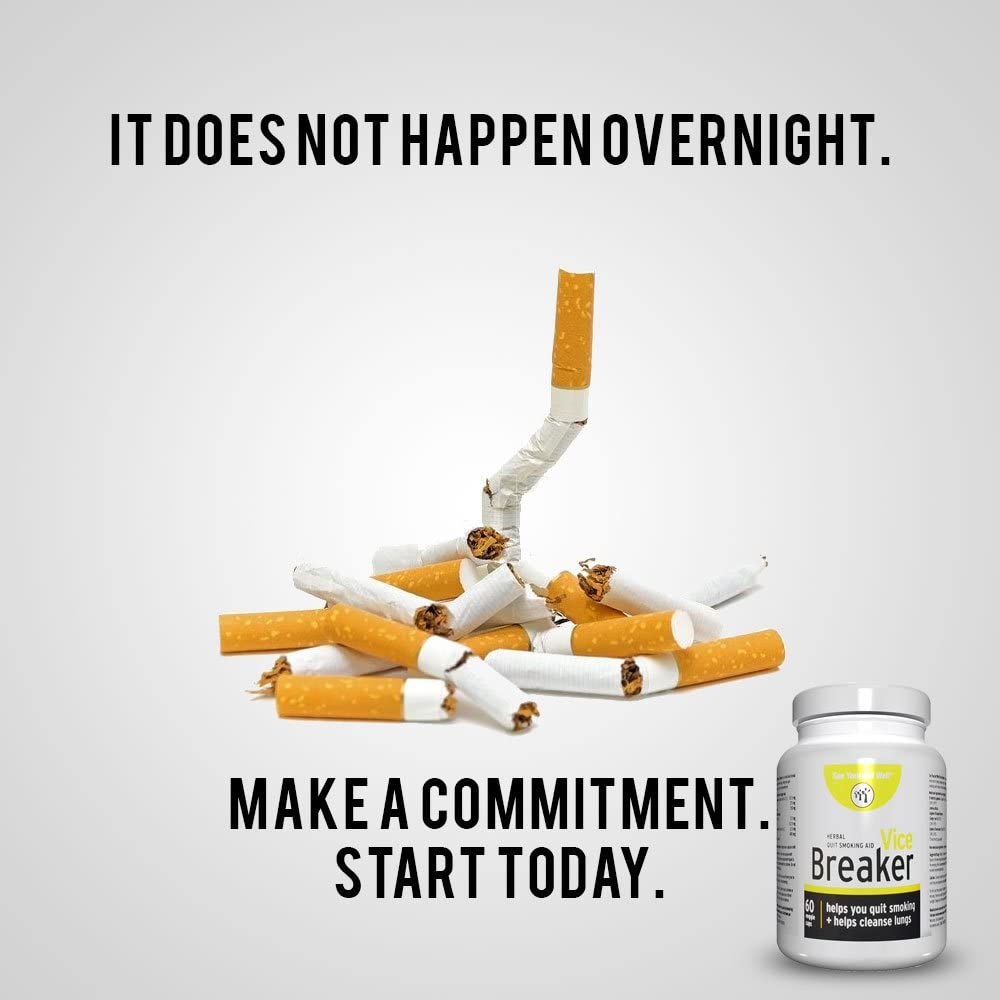 See Yourself Well Vice Breaker
$99.99
Helps you quit smoking and cleanse your lungs.
See Yourself Well Vice Breaker is a traditional herbal medicine to help cleanse lungs, help you quit smoking and reduce nicotine dependence.
Helps you to quit smoking
Helps to reduce nicotine dependence
Helps to cleanse lungs
60 veggie caps
Suggested Usage: Adults: take one capsule with liquid in the morning and one capsule with liquid in the evening. Not recommended for children. Do not exceed recommended dose.
Caution: Consult a health care practitioner prior to use if you are pregnant or breastfeeding.
What are customers are saying.
Back from Mozambique and amazingly enough, two months of no smoking.
I have smoked since I was 18 (now 64) and had many attempts to quit over the years including 'Nicorette' nicotine gum, 'Quit' nicotine mouth spray, nicotine patches and most recently 'Zyban', a couple of years ago. I had a bad reaction to the Zyban in the form of a severe eczema-type skin rash.
Vice-Breaker was my last chance and I thought I would try one more just so I could say I had tried everything. I had the wrong attitude and expected to fail from the start. I continued smoking for the first week and then thought I would see how long I could go without a cigarette - expecting maybe a half day. That was two months ago! Just taking it one day at a time now. Wish me luck!
Thanks, Al Spaeth
 
"Vice-Breaker"
I am 41 years old. I smoked for 27 years. Having worked as a health professional, I knew full well the dangers and detriments of smoking. Yet, I was unable to quit.
I started taking Vice-Breaker with no resolutions. I quit smoking after only 4 days. Almost a full year later, I am still smoke-free, and feeling great. I am so confident in Vice-Breaker's ability to enable one to quit smoking - without any side effects - that I recommended it to my mother. Now, she too, is smoke-free. The greatest gift that I could ever give is the freedom from cigarettes, and their hazardous effects. Do it for someone you love.
Laura - Mississauga, ON
 
It's A Miracle! I quit smoking so easily with vice-breaker!
This product is amazingly true to its name, "VICE-BREAKER", it really works! I wouldn't have believed it if I didn't try it for myself. I was smoking for many years, and was up to a pack a day.
When I started taking Vice-breaker, the first day I only smoked five cigarettes, the second day I only had four, and I quit on the 5th day and have been happily smoke free for the past two and a half months. I took Vice-breaker for a month and a half, the first month one capsule in the morning, and one capsule in the evening. The second month, I didn't feel like I needed to take them anymore, but decided for good measure and added protection against going back to my vice, I took one capsule a day for about two weeks. Over the years I have tried numerous products currently still on the market, and had no success in quitting with them. I am grateful to have stumbled upon this product through my osteopath's recommendation from client's of his that had quit smoking using vice-breaker. This is an all-natural product; I experienced no side effects, no cravings, and no irritability. Vice-breaker worked so well for me, that I cannot help but talk about it to everyone I know, and care about. It truly is a fabulous product! Carolyn
 
I just wanted to let you know that my son has been successful!
I bought the Vice-Breaker for him at Christmas. He was able to stop smoking within the 30 days and is very happy. He said that the vice-breaker capsules helped him in that he didn't enjoy smoking any longer, it made it less enjoyable for him to smoke as the cigarettes no longer tasted very good. He is enjoying the new taste of food and has no desire to smoke any more. I asked him if he would need any more capsules as the bottle said 45 days may be required, however, he told me he had stopped and was no longer needing the capsules after 30 days!
Thank you for getting this product in Huntsville! Laurie